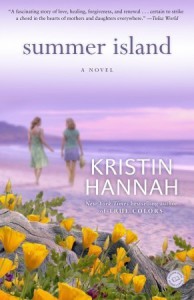 Book: Summer Island
Author: Kristin Hannah
Genre: Fiction/Family/Healing
Summary: Years ago, Nora Bridge walked out on her marriage, leaving her daughters behind. Now she is a celebrity talk-show host, famous for her stern moral advice. Her daughter Ruby is a struggling comedienne. The two haven't spoken in more than a decade. Then a scandal from Nora's past is exposed, and Ruby is offered a fortune to write a tell-all about her mother. Reluctantly, she returns to the family house on Summer Island, a home filled with frayed memories of joy and heartache. Confronting a past that includes a never-forgotten love, a sick best friend, and a mother who has harbored terrible family secrets, Ruby finally begins to understand the complex ties that bind a mother and daughter - and the healing that comes with forgiveness. - Ballantine Books, 2001.
This book was a nice break from the previous books I've read where they either disappointed me or were just okay. Kristin Hannah is always a good writer and it was nice to come back to her after having a healthy amount of time pass since reading Firefly Lane. I believe this one was another of her earlier novels, but I haven't checked as of yet. Her stories always have some kind of message within them that is universal and everyone needs to be reminded of every now and then.
This review will be spoiler free.
Nora and Ruby Bridge are mother and daughter, but you would never know it. After abandoning Ruby and her older sister Caroline, Nora has remade herself as a famous radio talk show host and newspaper column writer, giving the people of America advice on their problems. After a compromising secret from her past is revealed, Nora loses everything and must pick up the pieces. Ruby, meanwhile, is trying to become famous through her floundering career as a stand-up comedian. When she is offered the chance to write a tell-all article about her mother, she is only too eager to accept. The wounds inflicted on her as a result of her mother's abandonment are still fresh and she wishes to take revenge. Circumstances throw them together again and, while in their old home on Summer Island, the estranged mother and daughter must revisit the past if there is any chance for a future together.
While I have never encountered the family situations in the plot, I always wondered what emotions were involved in these backgrounds. The pace of healing was believable and the transition to different points of view of the characters was easy enough follow without many issues. It's a bittersweet and oftentimes sad story, but satisfying in its conclusion. It's not a complete fairy tale ending, but it's an ending that is necessary and complete in its own right. Hannah focuses only on the necessary so that nothing is disingenuous and the focus can be on the different relationships that have their own brand of healing. The only thing I thought in relation to the plot was that the plot point with the older sister was introduced and resolved a little too quickly, but it's forgivable when held up against the rest of the book and from the fact that the reader rarely sees her anyway.
All of the characters were memorable and enjoyable in their own fashion. Nora and Ruby are good characters who everyone could find a piece of themselves identifying with them. You find yourself sympathizing with both of them and while both have made their mistakes, they are overwhelmingly human and Hannah reminds the reader of that.
This is a nice read for lazy, gentle summer days and I enjoyed it.
I give Summer Island an A.
~*~
Please support the author by buying the book or by borrowing it from a friend or from your local library.
Thanks for reading!